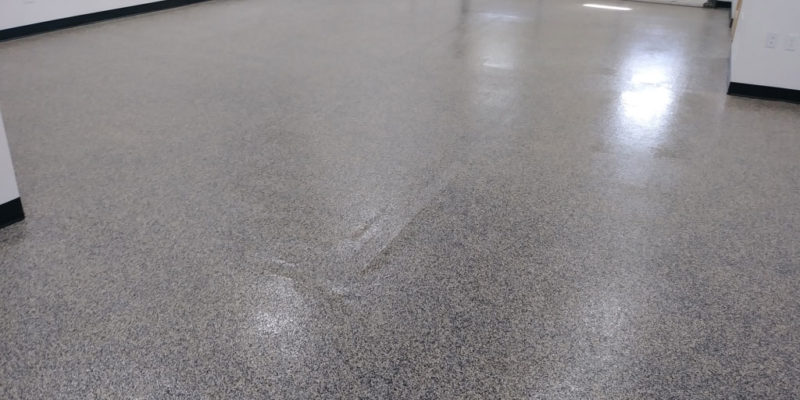 Looking for a long-lasting product your business can rely on for years? Epoxy flooring systems are strong, durable, and stand up to everyday wear and tear. Whether you own a hair salon, retail space, eatery, or auto-body shop, epoxy systems offer solutions your company can trust. No need to worry about tearing up your current flooring in order to achieve a fresh, new look. With epoxy systems, we simply apply the material over your current flooring. The process starts by preparing the current surface by grinding or sanding, cleaning, and addressing any damages or cracks. Once this step is complete, our team will be able to apply one of the many design colors and an industrial sealer.
The epoxy process is efficient, budget friendly, and most important for your business, minimally invasive. Since our process is time efficient, you won't have to worry about shutting your doors for weeks on end. Our team can work within pre-established set deadlines to meet your goals and ensure there is minimal downtime to your normal business hours.
Reinvent Your Space
The best part about epoxy coatings? You can select from a wide assortment of colors and artistic designs. You won't have to worry about sacrificing your brand's aesthetic for a sustainable, quality flooring system. Whether you're looking for a specific color or design, or you're not quite sure where to get started, our team will work with you to execute your vision.
Interested in getting started? Get a quote today.